Screw Bolts
Explore our wide range of concrete and masonry screw anchors (screwbolts).

Concrete and Masonry Screw Anchors - ICCONS Screwbolts.
What is a Screw in Anchor?
Concrete and Masonry Screw in Anchors also known as Screwbolts are a single-piece, screw-in, self-tapping concrete and masonry anchor suitable for use in a wide range of applications found in residential, commercial, and infrastructure construction spaces.
These fixings have become a dominant choice for numerous application due to their simple installation, varying size range, head types, corrosion protection coatings and versatility in use.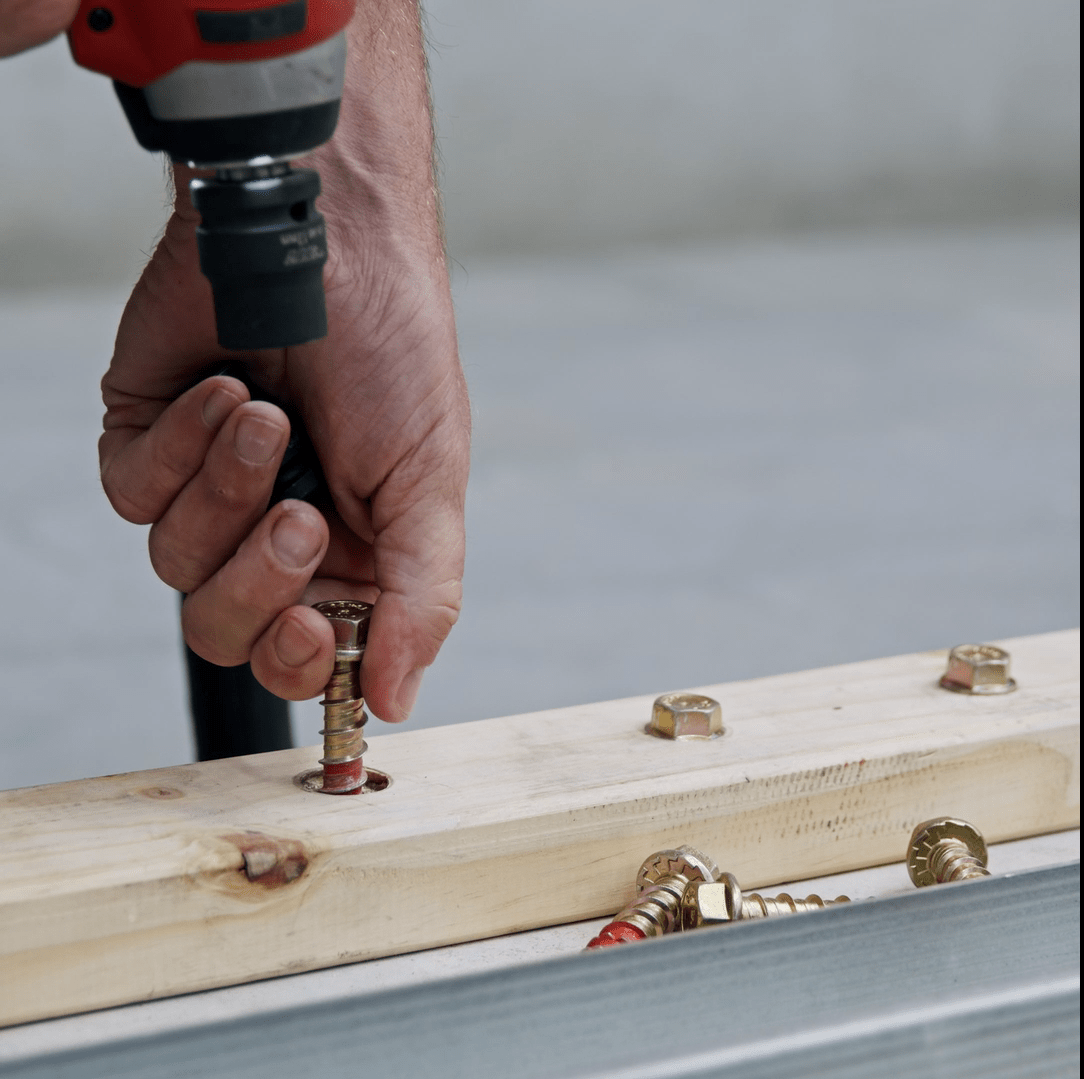 Installation is quick and easy, simply drill, clean the hole and screw in the anchor. Screw in Anchors can be easily removed and does not leave residual metal components in the drilled hole that can cause issues like corrosion, making them perfect for temporary applications.
Unlike mechanical expansion anchors which rely on friction, screw anchors utilise a keying effect into the base material for the entire depth and diameter of the hole, avoiding a concentration of stresses in one location of the hole. This reduces the expansion forces applied to the concrete, allowing close anchor spacing and near-to-edge anchor locations. Sharp thread-forming teeth ensure the most secure connection in hard base materials.

With the modernisation of the National Construction Code in Australia, the demand for high-performing, quick-installation concrete anchors have exponentially increased. Concrete Screw in Anchors produce outstanding performance when compared to the legacy option Sleeve Anchor or "Dynabolt". The consistent loads produced by Screw in Anchors has enabled various products to achieve a European Technical Assessment, adhering to AS5216 (Australian Design Standard for Post Installed and Cast in Anchor in Concrete), and becoming the dominant choice for buildings constructed under the National Construction Code.
Types of Concrete and Masonry Screw in Anchors (Screwbolts)
Hex Head
Countersunk Head
Pan or Mushroom Head
Truss Head
Eye Bolt Head
External Threaded Rod Hanger
Internal Threaded Rod Hanger
Internal Threaded Rod Tie Down
What are Concrete and Masonry Screw Anchors (Screwbolts) used for?
Screw in Anchors come in a huge range of head styles, sizes and corrosion coatings, making them incredibly versatile and suitable for numerous applications.
In addition to offering a wide range of screw bolts, ICCONS also provides options with approvals for specific design requirements. For example, there are screw bolts that have been approved for use in Cracked Concrete, C1 seismic, C2 seismic, and Fire Rated applications. This means that customers can be confident that ICCONS have a range of screw anchors with the approvals for your specific project, regardless of the type of construction they are working on.
Furthermore, ICCONS offers screw bolts that are National Code Compliant. This provides an extra layer of confidence for customers who need to be sure that their construction projects are in line with regulations and industry standards.
Common Applications for Concrete and Masonry Screw Anchors (Screwbolts)
Steel frame construction
Timber frame construction
Glazing, windows and storefronts
Racking and shelving
Fixings wood structures in concrete
Formwork
Structural fixings in cracked and uncracked concrete
Tunnel fit out
Cable tray support systems
Seismic bracing of MEP systems
Fastening steel strut channel and support straps for MEP
Facade structures
Guard rails
Bollards and protective barriers
Machinery and plant equipment
Stadium and theatre seating
Acoustic barriers
Balustrades and handrails
Scaffolding ties
Plumbing and fire services
How to use a Screw Anchor in Concrete (Screwbolt)

Drill Hole: Check the concrete is well compacted and without substantial voids. Suitable for dry, wet and flooded holes. Use drill in hammer mode. Drill according to specified depths in previous tables.
Blow and clean: Clean the hole from dust and concrete remains. Use blow pump and brush.
Install: Select a powered impact wrench or a torque wrench that does not exceed the maximum torque indicated in previous tables. Attach an appropriate size hex socket to the wrench. Mount the Screw-Bolt anchor head in the socket.
Apply torque: Drive the anchor with an impact driver or a torque wrench through the fixture and into the hole until the anchor head washer comes in contact with the fixture. The anchor should not exceed the installation torque as specified in our installation tables. Do not spin the hex socket off the anchor to disengage.
Suitable base materials for Concrete and Masonry Screw Anchors (Screwbolts)
Non-Cracked Concrete
Cracked Concrete (Ensure Code Compliant Screwbolt is used)
Masonry
Hollow Brick
Solid Brick
Block
Core-filled block
Stone
Who should use Concrete and Masonry Screw Anchors (Screwbolts)?
Due to the versatility of screwbolt almost all construction professionals can find a use for screwbolts.
Builder / Carpenters (House frame anchors, or bracket tie downs)
Plumbers (Small screwbolts can be used for condiut saddles, canterlevered brackets, water systems)
Electricians (Small screwbolts can be used for conduit saddles)
Formworkers (Screwbolts make anchoring and removing anchors incredibly easy for formworkers)
Scaffold Erectors (Screwbolts provide a secure anchor that is also easily removed, making them ideal for Scaffolding)
Mechanical and Electrical Services (Threaded rod hangers make fastening services fast and secure)
Commercial Contractors
Infrastructure Contractors
In conclusion, ICCONS provides a comprehensive range of anchoring solutions that cater to a wide range of construction projects. With screw bolts available in different materials and head styles, customers are sure to find the appropriate solution for their specific needs. The versatility of self-tapping screw bolts, combined with the approvals for specific applications and National Code Compliance, makes ICCONS a reliable and trusted source for anchoring solutions in construction.

If you are seeking the most comprehensive range of screw in anchors (screwbolts) look no further than your Australian Owned Fastener Supplier ICCONS.