BBTec Karat 180BG Diamond Core Drill (Up To 180mm)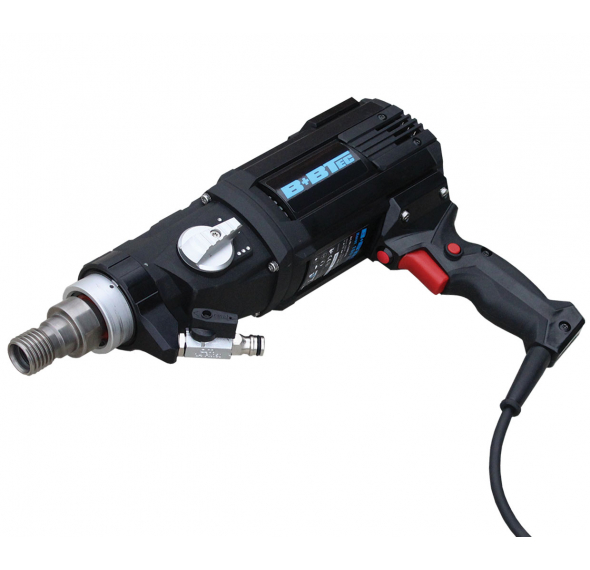 Product Summary
B+BTec straight from the Netherlands offers unparalleled quality and drill speed with their Karat 180BG (DCTDK180BG) handheld or rig mounted coring machine. The lightweight Karat handheld drilling units offer the most efficient solution to just about any drilling job you need to tackle. The Karat 180BG is perfect for wet or dry, handheld or rig mounted drilling. for bit diameters up to Ø180 mm (wet drilling in concrete).

Modular Design - The Modular System Design of the new Karat® core drilling machines gives the customer complete freedom to configure their own drilling rig. Also it allows for the easy exchange of drill motors, stands and accessories on the job-site.
Electronic Motor Protection - The Pulse™ Electronic Motor Protection System physically alerts the operator of an approaching motor overload by varying the rpm rate up to 6 times before shut down. The result is increased machine and bit life and allows the operator to achieve optimal drilling speed at all times.
Motor Overload Protection - 7 bright LED's visually aid the operator at maintaining optimal bit feed pressure thus preventing motor overload and increasing drilling performance.
3-Speed Gearing - All our Karat® core drills are equipped with powerful drill motors and a 3-speed gear box for optimal drilling performance regardless of the bit diameter, concrete quality or amount of reinforcement.
Data Retrieval Software - Karat® Drill Motors have an integrated data storage capability. Machine data such as operating hours and motor loading are saved. This data can easily be retrieved with the optional Karat® data software using a hi-speed USB connection (included in the software package).
Browse the ICCONS Dealer Network to find one near you.