Thunderbolt Pro - Hex Head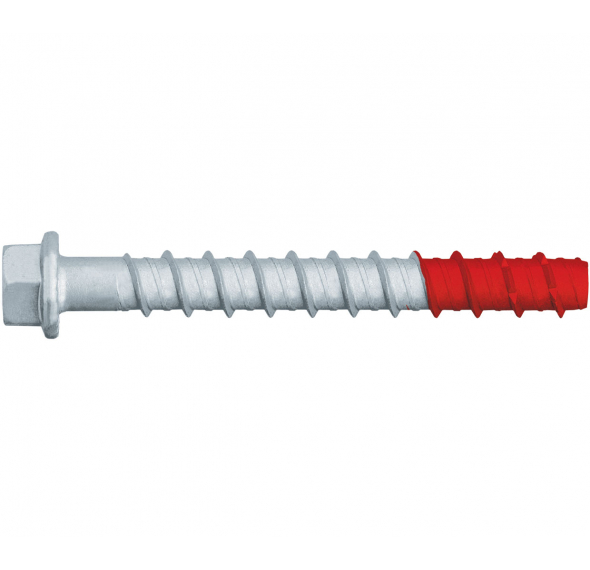 Product Summary
ICCONS Thunderbolt®Pro Hex Head is the latest high tensile screw-in, self-tapping concrete and masonry anchor for use in a wide range of materials used in the construction Industry. Installation is quick and easy, simply drill, clean the hole and screw in the anchor. The Thunderbolt Pro is the most complete screw bolt range on the market with the entire range equipped with ETA assessments for cracked concrete, fire performance and seismic ratings (please see technical data for specification requirements). Ranging from 5mm to 18mm in various lengths, ICCONS new and improved Thunderbolt Pro is your anchor for all applications from racking and shelving to demanding structural steel applications.

ICCONS Thunderbolt®Pro achieves the Highest Loads while generating Low Expansion forces which can make it a great alternative to adhesive anchors. The Thunderbolt®Pro is also completely removable making it ideal for temporary applications. Unlike mechanical expansion anchors, the Thunderbolt®Pro keys into the base material for the entire depth and diameter of the hole, not just at the base of the hole. This reduces high energy forces within the concrete allowing close anchor spacing and near-to edge anchor locations. 10 sharp thread forming teeth ensure the most secure connection in hard base materials. The Thunderbolt®Pro is a truly versatile anchor, as it can be installed in whole range of base materials such as concrete, block, brick, timber, marble, and stone, just to name a few. The highly engineered design of ICCONS Thunderbolt®Pro is the result of extensive testing and provides market leading load performance. ICCONS Thunderbolt®Pro is a one piece, fast, efficient and cost effective fixing solution for any job.

*Check the product TDS for further information regarding sizes holding C1/C2 approvals
**Please note that non-approved lines in the Thunderbolt®Pro range will be discontinued when stock is depleted.
Browse the ICCONS Dealer Network to find one near you.